Update: I have my new easel and love it.   Right now, a large painting is sitting on it.  It's painted with an acrylic sketch entirely in cadmium red.
I'm waiting for the acrylic paint to dry fully (it takes about a week) so that I can paint over it with water-soluble oil paints.
The red will show through, in some areas.  It's a great effect, borrowed from something I read when I reviewed Monet's correspondence and notes, many years ago.
During the winter, I almost bought a new easel.  Then, I looked at the price and decided that I could keep using my field easel for awhile longer.
This morning, I woke up and realized that I'm not painting as much as I would if I had a real easel again. (I didn't move the old, rickety one from Texas.)
So, I went to Dick Blick and ordered the same easel as my mother uses.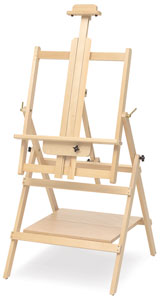 It's a truly lovely easel.  My mother likes to sit and paint at hers.  I tend to stand up and walk back and forth, painting and then seeing what my work looks like, at a distance.
That's partly because my work tends to be somewhat Impressionist in color.  I use bold colors and subtle colors, and all of them together so — close up — the painting doesn't always look like much.
My family and the people who collect my work talk about the 'sweet spot' being about 15 or 20 feet away from my art.
Anyway, I'm excited that this easel will be here in about a week.
I'm ready to finish several paintings, but I've postponed them because the field easel isn't sturdy enough.  Oh, it works great outdoors on uneven surfaces, but… I need a real easel.  This one is a beauty!
And frankly, Dick Blick's price was about 1/3 the cost of a comparable easel at most art supply stores… even the discount art supply store that I usually shop at in Portland, Maine.
(I looked far and wide for a better deal, and couldn't find anything close.  I even had an alert at eBay, so I was notified each time an auction featured an artist's easel.  No luck.)
Here's the easel description from Dick Blick.  If you click on the "Buy" button, it'll take you to the page where you can see more about this easel, and then browse the others that they carry.
(Shopping tip:  I used the code CCGC and the $5 savings almost covers the $5.99 shipping.  But, before you leave the Dick Blick website, be sure to look at their Clearance items.  There's a portable, hardwood Julian painting box that's 81% off right now… about $20.  That may be singing a siren song.  I'm thinking about it.)